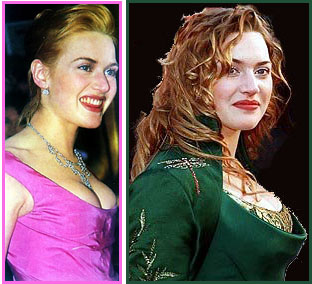 Oscars 1996 Page
Oscars 1998 Page
Kate related Oscars Trivia

*Heavenly Creatures, Jude, S&S and Hamlet were all nominated for an Oscar for "Best Writing, Screenplay"
*Sense and Sensibility won the "Best Writing, Screenplay" Oscar in 1996 for Emma Thompson's wonderful adaptation
*TWO = the number of women ever nominated for Best Director at the same time: Lina Wertmuller (Seven Beauties), Jane Campion (The Piano)
*ELEVEN = the number of most wins shared by Ben Hur and Titanic
*FOURTEEN = the record number of nominations for a film, shared by All About Eve and Titanic
*TWENTY-TWO = age of youngest actress ever to nominated for an Oscar...TWICE! KATE WINSELT!
*In Titanic (1998), Kate Winslet was nominated for best actress as young Rose, while Gloria Stuart earned a supporting-actress nod as the elderly Rose in the film's framing sequence. These two actresses made history when both were nominated for playing the same character in the same film.