Introducing the newest member of the Winslet Whispers Staff
Vickki Bennett will be attending the Cannes Film Festival in May! She will be our eyes and ears for this event! Wahooo!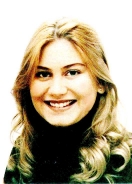 Vickki Bennett
Manager of The Cannes Film Festival
Mailing List and Newsletter
The 1999 International Film Festival at Cannes, France
May 12th-23rd
The Cannes Film Festival Newsletter
Produced for the Cannes Film Festival Mailing List by
VictoriaBennett, List Manager
HOLY SMOKE will be premiering at the Cannes Film Festival this May.
Which means Kate Winslet will be there as well. Anyone interested in the latest info on it and updates as the time draws nearer, can subscribe for free to the weekly newsletter about the notorious festival at the address below. This weeks newsletter contains excerpts from the HOLY SMOKE book by Anna and Jane Campion.
Subscribe
Cannes, France
Cannes Film Festival 1999
The Virgin's Guide to the Cannes Festival