Valentine's Day
@theOldVic




V-day at the Vic
presents
The Vagina Monologues
Sunday, February 14, 1999
"sex just doesn't get funnier, or more poignant" NY Times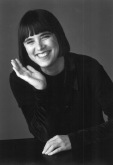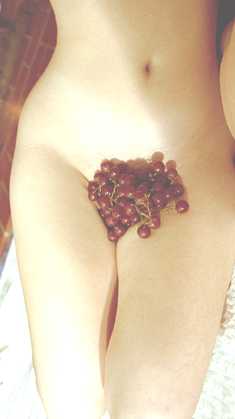 Eva Ensler
Author of "The Vagina Monologues"
"I was worried about vaginas. I was worried about what we think about
vaginas, and even more what we don't think about vaginas. So I decided to
talk to women about their vaginas, to do vagina interviews which became
vagina monologues. I talked to over two hundred women. At first women were
reluctant to talk. They were a little shy. But once they got going you
couldn't stop them.."
So begins Eve Ensler's hilarious eye-opening tour of the last frontier, the
forbidden zone at the heart of every woman. Her Obie winning one woman
play "The Vagina Monologues" gives voice to a chorus of lusty, outrageous,
poignant and thoroughly human stories transforming the question mark over
the female anatomy into a permanent victory sign. We hear about a 72 year
old's first glimpse of "down there", first-hand accounts of Bosnian rape
victims, a "vagina workshop" and answers to questions such as "If your
vagina got dressed what would it wear? - Answer (6yr. old) "Red high tops
and a Mets cap worn backwards".
From mid January to the end of February 1999 Eve Ensler will be performing
The Vagina Monologues at the King's Head Theatre in Islington.
On Sunday February 14th 1999 V Day at the Vic will bring together a
prestigious UK/US cast to perform the piece on the stage of the Old Vic
Theatre. This amazing theatrical event will be a wonderful celebration of
women and a major fund/awareness-raiser for some of the principal UK
organisations supporting women and children who experience domestic and
sexual violence.
Like the first V Day on 14th February 1998 in New York - performed by a
cast that included Glenn Close, Susan Sarandon, Whoopi Goldberg, Calista
Flockhart, Lily Tomlin and Winona Ryder - V Day at the Vic promises to
become "the hottest ticket" in town.

---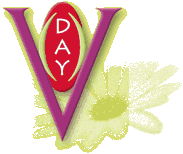 V-DAY is a movement to make the world safe for women.
On Valentine's
Day 1999 there will be events produced worldwide by organizations already working to end violence against women and offering support and shelter to those who have been violated.
Women's Aid Federation of England
Refuge
London Rape Crisis Line
Newham Asian Women's Project
Southall Black Sisters
SINE
Have all come together to raise funds and awareness for their work supporting
women and children who experience domestic and sexual violence.
What can you do to help?
This is the first time that these major organisations have come together to
develop awareness of the issues and raise the funds needed to continue
their incredible work. V Day at the Vic aims to cover all production
costs, so that every penny of ticket sales and advertising will go to the
charities.
Your support for V Day at the Vic will give women and children in need
access to national and local crisis lines 24 hours a day, 7 days a week safe and supportive accommodation when seeking refuge, support and counselling in reshaping their lives legal, professional and practical advice and assistance in rebuilding their lives.
How can you do it? By becoming a personal sponsor.
Golden Sponsor -£5000
Sponsor - £2,500
Patron - £1,500
Friend - £1,000
By taking out an advertisement in the programme.
Back cover -£5000
Inside front cover -£3,500
Inside back cover -£3,500
Full page -£2,000
Half page -£1,000
Quarter page-£500
Eighth page -£250
AND
By booking the date in your diary now. By buying tickets for this unique
event for you and your friends. By being there. At the Old Vic. February 14th 1999
Tickets
£500 including an invitation to the post show VIP Cocktail Reception
£250 including pre-show drinks
£125
£100
£50
If you would like further details about sponsorship and advertising
opportunities for V Day at the Vic please call the V Day team at the
Criterion Theatre. To reserve your tickets now please complete the tear
off slip below and we will send you confirmation and payment details.
If you would like further information about The Vagina Monologues at The
King's Head Theatre please call the Box Office on 0171 226 1916
Thank you for your support.

Please return to:
V Day at the Vic
Criterion Theatre
2 Jermyn Street
London SW1Y 4XA
Tel: 0171 839 8811 fax: 0171 925 0596
---

Eve's Performances

Eve Ensler will be taking her Obie award winning play The Vagina
Monologues on a tour, which includes Seattle, Chicago, Los Angeles
and New York. In each city one performance will be a benefit for
V-DAY.

The play had a hit off Broadway run in New York in the 1996/97 season, winning a Drama Desk Award nomination and an Obie Award. The play has subsequently been performed on tour in America with great success. 'The Vagina Monologues' was the centrepiece for V-Day, a gala theatrical and musical charity event, which took place at the Hammerstein Ballroom in New York on Valentine's Day 1998. Artists taking part in this event included Whoopi Goldberg, Winona Ryder, Glenn Close and Susan Sarandon.


Where: The Kings Head Theatre
When: Tues-Sat 20:00, Sat/Sun Mats 15:30 Tickets: £12 to £13
Preformed from:
1/25/99-3/15/99 London Kings Head Theater,which is the oldest and one of the best pub theatres in the country, located in Upper Street, Islington where Kate lives. (clip from an article on the London Kings Head Theatre: "Islington has become a wonderful place for theatre of all kinds, ranging from Sadler's Wells to the Almeida, the Tower to the King's Head. And the King's Head is a very important part of that provision. The atmosphere in a pub theatre is different from that in a more formal setting. The seats may not be the most luxurious you've ever come across, but the plays and the acting are good, and it's a real treat to spend the evening there" states Chris Smith who is trying to preserve the old thearte.)
map of Islington with Kings Head Theater circled


Play Credits:
Author: Eve Ensler, Performer: Eve Ensler, Director: Eve Ensler
Dates:
26 January - 6 March
Venue:
The King's Head Theatre (phone:0171 226 1916)
Old Vic Theatre on February 14, 1999

If you are interested in seeing VM there, please call Clive Flowers at 011-41814061367.

---

DO YOU WANT TO SEE !!!!!!!!
click
to see the location nearest you for this Valentine's Day 1999
It is being performed on college campuses throughout the United States!

---

Page created by Janalynn!
Author of Winslet Whispers