The Honeymoon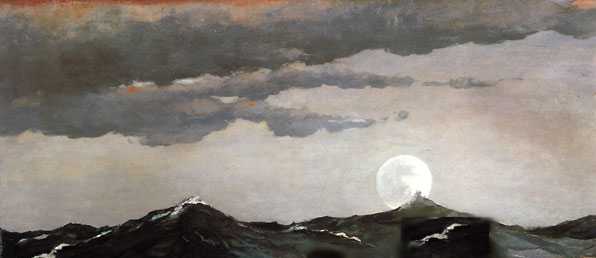 Titanic was great .. but this is so much bigger
The Mirror - 28th November 1998
by Mark McKivern


BRIDE Kate Winslet grimaced yesterday and told The Mirror of teething problems since her marriage last week. But they had nothing to do with new husband Jim Threapleton or their "wonderful" honeymoon on Scotland's West Coast.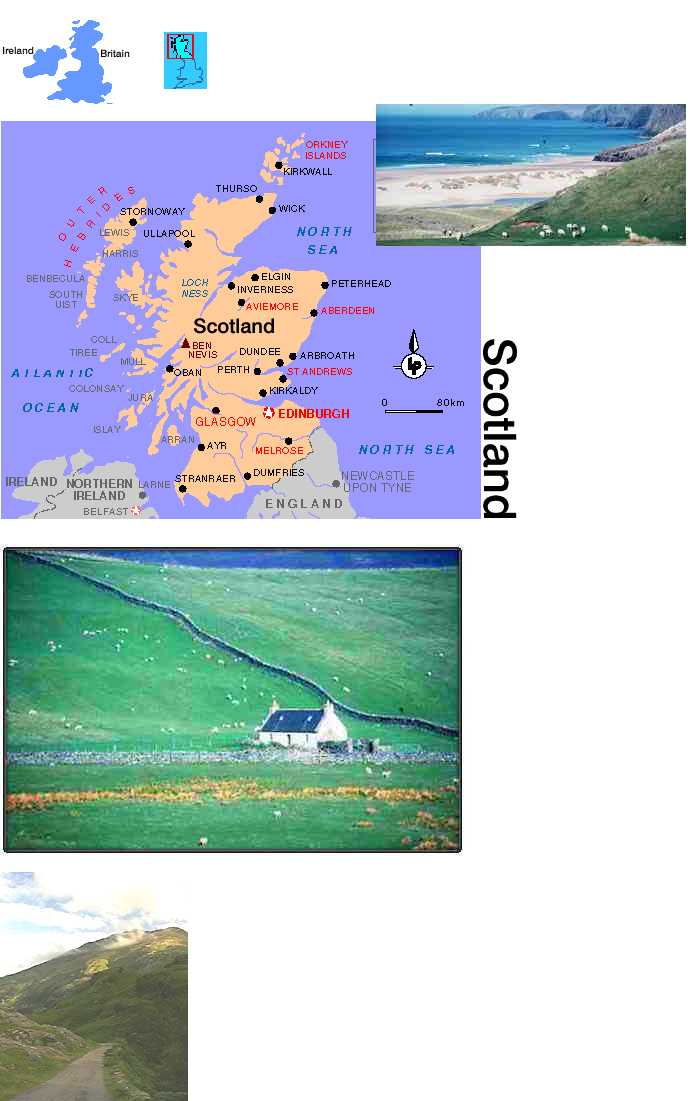 click on pic to see map of the Scotish West coast and pics!
A nasty bout of toothache was giving the Titanic star waves of pain but she's not letting it spoil her happiness.
She said: "It has been wonderful. What I have here with my love for Jim is bigger than the Titanic."
The 23-year-old actress added: "Titanic was great in that it opened up lots of doors in my career. It meant that everyone seems to know who I am. Jim and I have learned how to deal with that - it's part of our lives.
"But the change Titanic brought wasn't as big as the change brought by Jim. We have been very
close since we met last year but since we married we have both felt a wonderful bond."
She said: "The toothache is awful but I can honestly say I am still deliriously happy."
Hollywood star Kate and film director Jim have seen their share of tinseltown glitz.
But at heart they are a couple of ordinary humans.
At their cottage retreat on Scotland's wild and beautiful coastline Kate was at ease in baggy
cardigan, Jim comfortable in jogging pants and denim jacket.
Kate said: "We have just come away to relax and enjoy each other's company. We are simply two
normal people and we enjoy the same things as other normal people.
"Look at us - do we look like real people? I hope so. The wedding itself was hard to believe. We
expected a fantastic day but it surpassed all our expectations.
"Jim's brother Robin gave a wonderful speech, which was funny and very touching at the same
time. It helped make the day the best of our lives. Everyone cried - even Jim."
They met on the set of Hideous Kinky during filming last October.
Jim said: "We got on very well right away. We did a lot of laughing together and we became
close very quickly. After Titanic we both knew that life would have its difficulties but Kate has
given me sound PR lessons.
"We both feel the same way about being in the public eye. We are honest people and we have
nothing to hide, so we don't feel the need to sneak around. We really appreciate our own
company and value our privacy. But we don't share the mentality of those who go to outrageous
lengths to avoid the public eye.
"We tried to keep our honeymoon location a secret and were surprised that you've found us - but
not really that surprised, I guess. When we were married we didn't mind the Press and television
cameras. We were so happy and we wanted people to know. Why not?
"The next day we wanted to read the newspapers - just so we could relive the day."
Kate revealed that she had teeth problems before her marriage.
"I had a bit of trouble with a wisdom tooth before the wedding but I thought it would go away. I
was so excited I just ignored it.
"Now one side of my mouth is like a table tennis ball. I have a sore ear as well because whatever
is wrong has spread. I may have to look for a dentist in the next few days."
On their honeymoon venue, which The Mirror is keeping secret, Kate said: "This location is simply
wonderful, it's unique. We arrived in darkness and woke up to find a misty glen and beautiful
forest. It was like waking up in paradise, just what we were looking for."
She first fell in love with the area after a visit with sister Beth, 20, last Easter.
She recalled: "We went to Oban just after I finished filming Titanic. The scenery was wonderful
and I fell in love with the Scottish landscape then.
"I remember we were messing around and I was splashing my hand in the cold water of a loch.
"I had filmed Titanic and after that experience I knew I could handle cold water. No one else
fancied it much, though."
She added: "I also think Edinburgh is a wonderful city. I filmed parts of Jude in Scotland and
managed to spend time strolling in Edinburgh. We are hoping we will be able to visit again before
the end of our honeymoon."
Kate has no intention of rushing into any new projects in the near future.
She said: "It's a lovely time for our family and after the work I've done recently I thought I
deserved a break.
"Jim and I intend to spend real time together through Christmas and we don't have any real plans
for some time.
"I'm looking at scripts but we have made no solid decisions yet. Our priorities lie with each other
at the moment, life is more important than work."
Jim nodded: "Lots of plans are afoot. We aren't going headlong into anything.
"We will take a few months to decide on long-term plans. We have been happy so far to jump
headlong into our marriage."
And on talk about parenthood, Kate laughed: "The rumours have been rife but we have years
ahead of us. So we won't be hearing the patter of tiny feet for a while yet."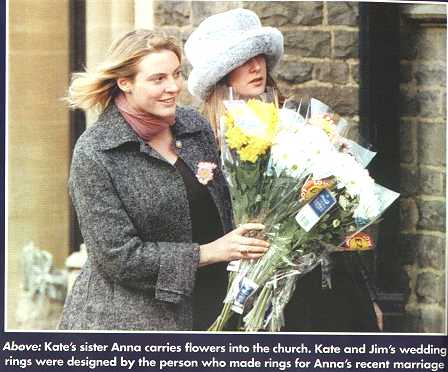 "My Joy for Kate", by big sis Anna (the other Ms. Winslet)
November 24, 1998 by Sarah Harris
ACTRESS Anna Winslet yesterday told of her Titanic star sister Kate's joy at marrying the love of her life, Jim Threapleton. Anna, aged 26, and her younger sister, Beth, 20, were maids of honour, while their brother, Joss, 17, was an usher at the low-key ceremony. Kate tied the knot in a traditional Church of England ceremony at the family's local church in Reading on Sunday. Anna, who was rehearsing for a Show of Strength play in Bristol yesterday after partying until 4am, said: "It was absolutely brilliant. I still feel like I'm in a dream. I can't believe she's gone and done it. "Kate was so happy. It's the same for every blushing bride - it's so exciting and exhilarating you want to tell everyone that this is the man you absolutely adore and love dearly." Kate's father, Roger, who is also an actor, gave a reading in the church, which was packed with guests including Emma Thompson and Greg Wise. Anna said: "I had mum sitting next to me just crying and Kate cried a little bit. As soon as she started crying, we were just blabbing away." Secret Anna and her husband, Edmund Harcourt, whom she married six weeks ago, hired his band, Chocolate Starship, for the evening. A folk band played as well. "Kate had wanted it to be just family and low profile," she said. "She had been trying to tell people that the wedding wasn't until next year. But I think that too many people found out through the grapevine. I knew a few months ago." Kate's honeymoon location is a close-kept secret - but Anna confirmed that it was not a cruise. "She's going to keep her feet well and truly on the ground and not get her feet wet on the holiday," she laughed. Anna is starring in the play Same Hole Deeper from November 25 to December 19 at the Tobacco Factory in Bedminster, Bristol. The comedy, by Graham Alborough, is set in Switzerland in December 1976 and revolves around the disappearance of a movie star.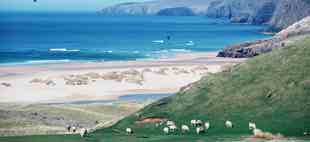 Hull Daily Mail News
Titanic star's honeymoon hideaway Newlywed Titanic star Kate Winslet and husband Jim Threapleton have headed north for their honeymoon. Down-to-earth Winslet, 23, who served wedding guests bangers and mash when she tied the knot in Reading on Sunday, spent the start of her married life at a rural hotel close to her husband's childhood home, The Sun reported. The couple stayed at the 16th Century Simonstone Hall Hotel near Hawes in the North Yorkshire Dales, dining on bangers and mash again and sleeping in a four-poster bed. Hotel manager Elaine Jarvie told The Sun: 'I've seen Titanic twice so I was delighted when I found out Kate was staying. 'I couldn't believe how normal she was. She didn't act like a huge Hollywood star, she was just a lovely ordinary girl.' The couple spent two nights in the Dales and according to The Mirror are now honeymooning at an isolated cottage in the Scottish Highlands. The paper pictured them cycling in the rain and reported they had been hiking - but refused to spoil their hideaway and reveal exactly where they are.

---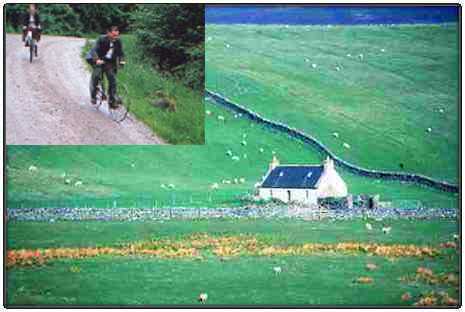 The Daily Record News
Friday November 27
Titanic Star On Her Bike For Scots Honeymoon
SURVIVING the sinking of the Titanic is one thing, coping with the weather in Scotland in November is quite another. But newlywed Kate Winslet - on honeymoon at a secret location with her new husband Jim Threapleton - had come prepared for the cold.
A bit of brisk exercise is the perfect tonic, so Kate and Jim leapt on a pair of borrowed bikes to tear through the windswept scenery.
The pouring rain didn't dampen their spirits - after all, what Scots holiday would be complete without it? One local who saw them said: "They were soaked to the skin by a very heavy downpour but they didn't seem to care.
"They were mucking about like any young couple in love. Jim even pulled a couple of wheelies."
When she slowed down, Britain's hottest star kept herself nice and cosy with a bright red balaclava. Her stunning move outfits were long forgotten as she clumped about in sturdy boots, a chunky jumper and a pair of army trousers.
Kate, 23, and Jim, a 24-year-old assistant movie director, headed north after their marriage in her home town of Reading on Sunday.
They arrived at their whitewashed honeymoon cottage in a jeep. It's 10 miles from the nearest shop, but their local hosts had made sure they were well-stocked with provisions.
There were no trappings of wealth or fame. Jim got up first thing to collect logs for the fire, then he and Kate set off hand in hand for a morning walk before their bike ride.
"Jim must have been a boy scout in his time," said the local observer.
"It must have been very cold in the house before they got the fire going, but the chimney was soon puffing out smoke and it kept going all day long."
The cottage is set at the foot of a range of hills, with a stream running through the garden.
Kate and Jim slept in a rooftop bedroom, with two tiny dormer windows giving glimpses of the stunning landscape.
It couldn't been further from the glamour of Hollywood. But then, that's probably what they both wanted.


---