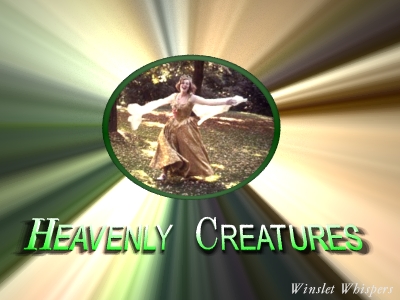 HEAVENLY CREATURES
Kate's first film experience was in the film "Heavenly Creatures" which was nominated for and Oscar in 1995 for Best Writing of a Screenplay Written Directly for the Screen by Peter Jackson and Frances Walsh. At the age of 17, "Heavenly Creatures" brought her international recognition and critical acclaim. Kate portrayed the real-life Juliet Hulme in the film story about the New Zealand murder of her best friend's mother. Kate received the New Zealand Film and Television award for Best Foreign Actress, the Emprie Magazine Award for Best British Actress, and has been included in Movieline magazine's "Top Ten Performances by Actors Under 30" for her stirring performance as the manipulative and turbulent Juliet.
In a desire to remain as close to the facts as possible over this true life New Zealand murder story, the director, Peter Jackson insisted on casting the actors who would portray the Hulme famly out of England. Producer Jim Booth contacted English casting agents John and Ros Hubbard who rounded up 175 young women to audition for the part of Juliet Hume. Only one stood out. Kate Winslet, a young 17-year-old actress from Reading, England who bore an uncanny resembilance to the real Juliet Hulme.
Peter Jackson decided Kate was perfect for the part, "Kate impressed me straight away as an actress with enormous range. She threw herself into the role with great energy and enthusiasm and spent many hours researching Juliet's character."
Pauline and Juliet Melanie and Kate
Starring Kate Winslet & Melanie Lynskey
Sarah Peirse, Diana Kent, Clive Merrison, Simon O'Connor
The intense friendship between two schoolgirls leads to tragedy when their vivid aginations yield murderous impulses. But her involvement with her character in her debut film Heavenly Creatures shocked even her director. This powerful but extremely peculiar film told the true story of the obsessive relationship between schoolgirls Juliet Hulme and Pauline Parker, who killed Parker's mother when they were threatened with forcible separation. The case sandalised the New Zealand of 1954, which is lovingly recreated in the film. Winslet played Hulme, opposite local girl Mel Lynskey. "Heavenly Creatures was the most extraordinary experience of my life," says Winslet, with her usual certainty, "because we really did become them. It was absolutely harrowing. I was 17, Mel was 15, we didn't know anything about how you have to prepare yourself mentally when you go into a film, and it was like leaving half of my heart behind in leaving Mel when I had to come home. Because we really become one person."
Winslet's immersion in the role alarmed even the film's director. "Remember: this isn't real," he is said to have warned her. "It's not really happening."
When she came back she had three weeks to prepare herself for her next job, a second series of Get Back, a now-forgotten sitcom. "I thought, Christ, what do I do? And I realised that I'd been traumatised, that I'd been through an ordeal, and the only way I could deal with it was to spend days and days just crying it out of my system."



---

ANGELS WITH DIRTY SECRETS
'HEAVENLY CREATURES' TELLS A DARK TALE OF DREAMS COME TRUE
Review by Owen Gleiberman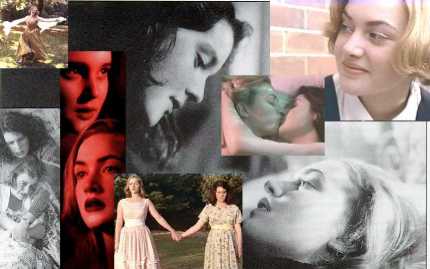 Peter Jackson, the director and cowriter of HEAVENLY CREATURES (Miramax, R), has a deliriously overwrought cinematic style, the kind that whooshes past nuance and logic and even good taste to hit your senses like opium.
Set in the early '50s, in the New Zealand village of Christchurch, this ripe hallucination of a movie-a rhapsody in purple-has been photographed in sun- drenched candy color that lends it the surreal clarity of a dream. At the same time, the camera keeps rushing about as if a gremlin were at the controls. It speeds through pastures and woods, soars over hills, and zooms up to windows and doorways, tracking the characters' movements with predatory fervor, only to plunge, moments later, into their gaudiest fantasies. What makes all of this doubly outrageous is that Jackson, who is best known for the leapin'-innards horror comedy Dead Alive (1993), has tethered his kaleidoscopic style to a disturbing true-life tale: the case of Pauline Parker and Juliet Hulme, teenage friends whose descent into a mutually created fairy- tale world culminated in their murdering Pauline's mother. Heavenly Creatures doesn't explain this crime with any psychological depth-at times, the film is emotionally opaque-and yet it's impossible to take your eyes off it. Imagine a slasher thriller set inside the Secret Garden and directed by Ken Russell at his most camera-ecstatic, and you'll have an idea of the movie's luridly intense pop delirium.
The moment the two girls meet, it's a passionate attraction of opposites. Pauline (Melanie Lynskey), awkward and repressed, is the proverbial outsider, her sulky tomboy face peering out from beneath a mop of unruly dark curls. Juliet (Kate Winslet), who has just arrived from England, is haughty and blond and beautiful, an aristocratic princess who moves through life with the unfettered confidence of the truly spoiled. What the two share is a worship of art, a history of childhood illness, and a rejection of family, school, authority. They're scarred delinquent nihilists whose emotions spill over the edges of genteel 1950s society.
Lynskey and Winslet are extraordinary actresses. Whether swooning to Mario Lanza's golden-throat croon or weeping in each other's arms, they achieve a transcendent teenhysteria, innocent yet erotic-a mating of the spirit. To give form to their feelings, Pauline and Juliet create the fantasy kingdom of Borovnia, which encompasses Edenic gardens filled with unicorns and giant butterflies as well as a boisterous medieval village in which Juliet's clay sculptures come to life as human-size knights and damsels (one of these statues, a bearded prince named Diello, is summoned by the girls to "kill" pesky adults). There's something bracing about the way that Heavenly Creatures serves up its heroines' fantasies with literal-minded brute force. This is a movie that envisions the adolescent imagination not as a soft-focus reverie but as a kind of sixth sense, a concrete refuge from reality.
The film is on shakier ground when portraying the mundane real world. The girls' parents and teachers are photographed through wide-angle lenses and turned into grotesque cartoons of insensitivity (Juliet's father, played by Clive Merrison, quivers like Patrick Magee in A Clockwork Orange). Jackson is trying for an expressionistic effect, but this demonizing of the corrupt adult establishment just seems shallow. It leads, as well, to the film's central flaw: By the time Pauline hatches a plan to bash her poor, workaday mother (Sarah Pierse) in the head with a brick-a plan that Juliet avidly goes along with-we barely understand why the two girls have metamorphosed into the '50s teenybop answer to Leopold and Loeb.

Despite the reading of Pauline Parker's actual diaries on the soundtrack, the murder remainsan enigma, locked up in the minds of the real Pauline Parker and Juliet Hulme-both of whomserved time in prison for their crime, and one of whom, Juliet, was revealed last year to be the pseudonymous best-selling mystery writer Anneis story, or at least channeled them into a genuinely complex vision. Still, if the pleaures of Heavenly Creatures remain defiantly on the surface, on that level the movie is a dazzler.


It took 18 months for Peter Jackson to complete editing of Heavenly Creatures. During that time, Kate again needed money so, having returned to England from New Zealand, she went back to her job in the London deli. That would be the last time Kate Winslet would have to work at a job like that.

Sometime later when Kate was in the United States for the promotion of Heavenly Creatures, an agent from the William Morris Agency came to her hotel room late one evening and signed a contract to represent her for future acting roles.

"I was reading the script in the back of the car and I turned to my Dad and yelled, 'I've GOT to get this!' And he replied, 'Then you will'. And I thought, 'Yep, that's it. I'm bloody well going to'. And that was it. I was so determined. It was something crucial to my life," she confesses, her deep blue eyes widening at the memory. "I just so communicated with her, the story and their relationship. And when I found out, I just couldn't believe it. I was so happy, I cried. I remember I was working part-time at a deli at the time because I didn't have any money and was in the middle of making a sandwich when they phoned and said I'd got the job. I burst into tears and had to leave work because I couldn't control myself. It was absolutely brilliant." Trading her deli job for the meatier role of English teenager Hulme, Winslet relished the opportunity to fly halfway round the world to film Heavenly Creatures and return to New Zealand, a country she had previously visited as a child with her grandmother and older sister. It's an experience she still recalls fondly. "We went there for three weeks when I was six because we've got relatives in Auckland," explains Winslet. "Actually, my uncle lives on Waiheke Island, so I spent some time there. I vaguely remember some things about Auckland but, as I'd never been to the South Island, filming Heavenly Creatures there was wonderful. We shifted location quite a bit, so I got to see a lot of the countryside. It's stunning and incredibly English, like Cornwall, and I had a fantastic time. I loved the experience and absolutely adore New Zealand," she enthuses. After the breathtaking scenery of New Zealand and the high of starring in her first movie at just 17, Winslet was confronted by the harsh reality of returning to London and the frustration of waiting 18 months for Heavenly Creatures to be released. In the interim, she found herself desperate for money, so returned to work at the deli. "We finished shooting Heavenly Creatures in June 1993 and it wasn't released until February 1995, " she frowns. "And I didn't see it until September 1994 at the Venice Film Festival. So that was just a funny old 18 months of nothingness and just waiting for it to be released. Then things went crazy when it took off in America and I was introduced to all these agents, which was frightening. But I told them: 'Look, I don't know what I'm talking about, so don't expect me to have an opinion', because I was only 18 and I had no idea at all about anything." Heavenly Creatures surprise appeal in the States meant Winslet was targeted by every agent in Tinseltown and after a gruelling round of 22 meetings in five days, she returned to London exhausted.

Kate Winslet's Acceptance Speech
1996 Empire Magazine Award
Best British Actress Award for her role in Heavenly Creatures
Presented by Sir Ian McKellen...
From Empire Magazine, April 1996

"Oh God, this wasn't meant to happen. Crumbs. Thank you so much! God there's so many people to thank. Peter Jackson and Fran Walsh, Peter directed Heavenly Creatures and Fran the co-writer, and Mel Lynskey (Looks at her Heavenly Creatures co-star, seated in the audience) I just couldn't have done it without you Mel, you were so wonderful and so much a part of me and of Juliet. Let's not forget that this was a true story. I want to accept this award, I think, on behalf of the producer, Jim Booth, who died of cancer shortly after we'd finished filming...Jim, this is for you. Thanks very much."
---
Soundtrack for Heavenly Creatures
The original score for Heavenly Creatures was composed by Peter Dasent. The soundtrack for Heavenly Creatures features a number of songs performed by popular 1950's tenor, Mario Lanza.

Buy the CD!
"Just a Closer Walk With Thee"
Performed by Choirs of Burnside High School, Cashmere
High
School, Hagley Comunity College,
and Villa Maria College
"Be My Love"
Written by Brodsky and Cahn
Performed by Mario Lanza
"The Donkey Serenade"
Written by Friml, Stothart, Wright, and Forrest
Performed by Mario Lanza
"How Much is that Doggie in the Window"
Written by Merrill
"Funiculi, Funicula"
Written by Turco and Denza
Performed by Mario Lanza
"E Lucevan le Stelle"
Written by Giacomo Puccini
Performed by Peter Dvorsky
"The Loveliest Night of the Year"
Written by Aaronson, Webster, and Rosas
Performed by Mario Lanza
"Sono Andati"
From "La Boheme"
Written by Giacomo Puccini
Performed by Kate Winslet


Simply Beautiful
"The Humming Chorus"
Written by Giacomo Puccini
Performed by the Hungarian State Opera
"You'll Never Walk Alone"
Written by Rogers and Hammerstein
Performed by Mario Lanza
---
Picture Galleries
Winslet Whisper's Heavenly Creatures Photo Gallery Gallery GO!
The Kate Winslet Show Heavenly Creatures Gallery GO!
The Kate Winslet Fan Club Heavenly Creatures Gallery #1 #2 #3
namdar GO!
Jeron's Page of Pics GO!

Screenplay
The Heavenly Creatures Screenplay




Teenage Girls' Debut: Mates in Matricide Newsday 1994