---
Kate's Mates
Kate Winslet left her home in North London, England on June 11, 1998 and spent a couple of months
down under in a remote Australian town
called Hawker filming "Holy Smoke", a black comedy, (very dramatic, but also very funny in parts), that revolves around Kate's character, "Ruth" an Australian girl who goes overseas and gets hooked up in a religious cult in India, falls in love with its leader, begins a strange romance and is swept up in his spiritual movement creating the backdrop for a bizarre love story.
Winslet's family employ a "cult buster" named "P.J. Waters", played by Harvey Keitel , who stared in such films as "Pulp Fiction", "Thelma and Louise" and "The Piano" (hit link to go to a beautiful "Piano" web site) , which was also directed by Jane Campion.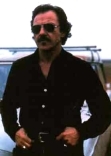 Harvey in "The Piano"
---

Harvey's "cult busting" character becomes romantically involved with Kate's character (Kate is reported to have several nude scenes with Keitel) which this of course does not go over very well with his wife played by

"Jackie Brown" star...
Pam Grier
---
Local Australian actress, Sophie Lee who starred in "The Castle"
and "Murial's Wedding"
Sophie Lee on location in Hawker
joins the "Holy Smoke" cast along with other Australian local actors such as the footy-obsessed Hislop brother in "Muriel's Wedding", actor Daniel Wyllie (no picture found YET), Tim Rogers (no picture found YET), and Australian comedian, Austen Tayshus
who all get a guernsey in the twirling breezes of HOLY SMOKE.