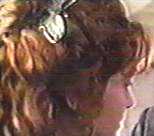 Customs seize ivory and tortoiseshell 'Titanic' props
MORE THAN 30 props from the film Titanic have been confiscated because they are made
from endangered species. Among them is the tortoiseshell hair clip worn by Kate Winslet in
her nude modelling scene with Leonardo DiCaprio.
The film-maker 20th Century Fox used genuine Edwardian dressing table items, sending
them from Britain to Mexico, where filming took place. But when the props were brought
back into England, Customs officials at Heathrow airport checked a box and found theitems
were made from parts of tortoises, elephants, crocodiles and a hippopotamus.
The props include brushes, perfume jars, mirrors, cigar boxes and cigarette holders. There
is a cigar cutter made from a hippopotamus tooth and a book of common prayer with an
ivory cover.
Although it is not illegal to own goods made from animals such as turtles, alligators or
tigers, owners who want to take them out of the country and bring them back have to get
an import licence from Customs and Excise. "This is to stop endangered species being
killed, and goods made from them being brought back into the country under the claim
that they are antiques," a spokesman said.
Ann Ainslie of the Convention on the International Trade in Endangered Species said: "The
agent applied for retrospective permits, which were refused by the Department of the
Environment, Transport and the Regions, as the agent knowingly shipped the items
without obtaining a permit."
A permit costs £10 per species, so for the sake of £40, the film-maker has lost items worth
hundreds of pounds.
The items have given a boost to an exhibition at Merseyside Maritime Museum in Liverpool
- 'Titanic and Lusitania, Floating Palaces of the Edwardian Age'. It was relying on a 20ft
model of the Titanic as its main attraction. But the film props are likely to draw bigger
crowds.
It is not the first time that the owner of movie memorabilia has been caught out. Gloria
Swanson's tigerskin rug suffered the same fate. She gave the rug to the British novelist
Elinor Glyn. When she died, it passed to a relative who wanted to ship it from Los Angeles
to her home in Britain - but failed to get an endangered species permit.
After being confiscated, the rug went to the Customs and and Excise national museum in
Liverpool, where it was renovated and put on display.